Various Creations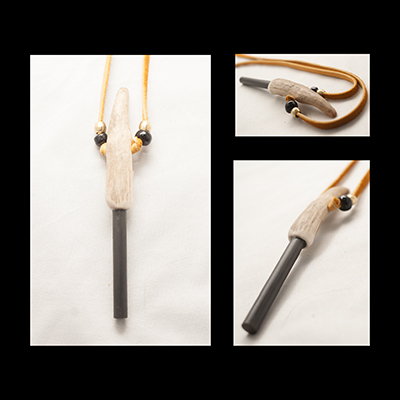 Firesteel Ferro Rod Large
Easy fire making, fire striker ferrocerium rod with antler handle
Materials:
Ferrocerium rod with deer antler handle and leather cord.
Approximate Size:
including handle 10-12cm Rod only: 6cm x 1cm
Description:
One of our favorite methods for making fire. Simply scrape along the metal rod (ferrocerium) with a hard steel, such as the back of a knife and voila... easily make sparks fly! Great to have in a survival pack, as its light weight and works even when wet. We've given it the Tribal Thunder touch by adding an easy to hold deer antler handle and leather cord to keep handy as a necklace when out in the woods. The clever deer antler also serves as a tool in flint knapping.
Total size including handle 10-12cm (size of handle varies)
Rod only: 6cm x 1cm. This is our large size firesteel. One rod this size can spark thousands of times. That's a lot of fires!
"Ferrocerium is a man-made metallic material that produces hot sparks at temperatures of about 3,000 °C (5,430 °F) when scraped against a rough surface (pyrophoricity), such as ridged steel." Thanks Wikipedia.
Roll over the image to magnify, might take few seconds.