Incense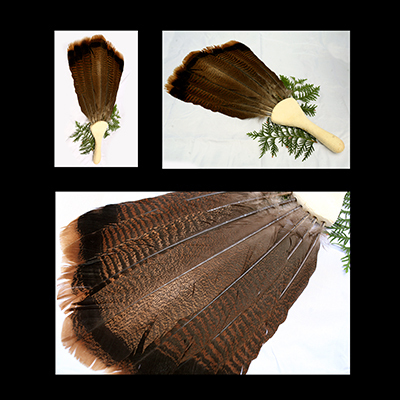 Limited Addition
Materials:
Prime wild turkey tail feathers, light weight pine handle hand stiched with white deerskin leather.
Approximate Size:
Approx. 20 inches long by 10 inches wide at top
Description:
We have made a limited stock of this style of fan. When they're gone, they're gone!
These fans are made of the seven prime tail feathers of the male wild turkey. These spiritual fans can serve many functions in the spiritual arena. This is an incredible tool for smudging, cleansing, or just simply fanning on a hot day.
This fan is entirely hand made. The handle is made of light weight pine wood, wrapped in soft white deer leather and hand stitched. The smooth broad base leaves room to personalize as you see fit. The internal wooden handle assures a firm base to attach additional power items securely to.
The feathers were ethically collected from local hunters who used the bird for food and returned all other parts rightfully to the earth or used them for various cultural artifacts (i.e. whistles, calls, beads, etc).
Since only one fan can be made out of each tail, we have only made a few available.
Roll over the image to magnify, might take few seconds.
SOLD. Call to pre-order.